The School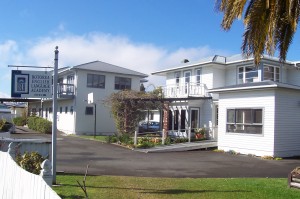 Rotorua English Language Academy opened in 1993 as the only private language school in Rotorua, which is situated in the North Island of New Zealand. The school expanded steadily, adding a new classroom block and student common room in 1997 and extra rooms in 2002. Our student numbers range from 30 – 50 during quiet periods to 150 – 180 at busy times.
Quality is of utmost importance to RELA. We are a Category One school, a member of English New Zealand, and we are also a member of Quality English. We offer a strong academic programme with General English classes from Beginner to Advanced level. We also have a strong examination focus offering preparation for IELTS, Cambridge FCE and CAE, and TOEIC. We believe that each student is an individual and strive to cater to each student's unique learning needs and goals.
As well as our Academic programme, we have an extensive activities programme which attracts people from all over the world, in order to learn English in an exciting and stimulating environment.
We have a maximum of 14 students in a class. A special feature of our school is that we take students of all ages, and it is quite normal for us to have students aged from 12-70+ in the school.
We have 17 classrooms housed in 5 buildings, a computer suite which can be used for classes and for self-study. In addition, there is a student common room with free Wifi . The common room also contains a kitchen and free tea and coffee facilities. The school has a separate games room with pool and table tennis tables, and its own petanque court. Opposite the school there is a large sports field, and close to the school are a swimming pool, badminton hall and squash courts.
Our teachers are friendly, helpful and well-qualified. All regular tutors have internationally recognised qualifications and are skilled and experienced teachers. Many of our staff have travelled extensively and have experience teaching in other countries. The staff are selected very carefully for their personal qualities. The directors ensure that the teachers are kind, friendly and helpful people who greatly enjoy working with international students. All tutors are regularly evaluated and a continuous training programme is in place in order to maintain the high standards of teaching for which Rotorua English Language Academy is well known.
Our school has:
We take very good care of our students.
The school is:
a 5-minute walk from the city centre of Rotorua
opposite a beautiful town park
surrounded by lawns and gardens
well equipped, with good facilities
in one of the most popular locations in New Zealand