Blog
Welcome to our blog where we will keep you up-to-date with all that is happening in the school and post pictures of our students and life around the school.
All work and no play…
Well it certainly wasn't all work for our latest group of High School Preparation students from the Japan Aviation Academy. Check out the photos of them below.
Don't worry they did work extremely hard too as you can see by the graph of their results. You guys were absolute superstars!!
 A Top Quality School
Those of you who know us know that quality is of utmost importance to RELA. We believe in giving all our stakeholders quality teaching, quality homestays, quality service and a quality experience. Earlier this year NZQA (the New Zealand Qualifications Authority) agreed that we are doing a wonderful job by once again rating us as a Category 1 school. This is the highest rating you can be given and means that NZQA are
– Highly confident in RELA's educational performance
– Highly confident in RELA's capability in self-assessment.
You can view our latest EER report here
It also means that students on a student visa of 14 weeks or more will continue to get 20 hours of work rights when they study with us. Well done us 🙂
The September, October, November and December ESOM winners were….
Saya (from Japan) in December, Victor (November) and Naraihau (October) both from Tahiti and Yoona (September) from Korea. Awesome work. The ESOM award not only recognises students use of English but it is also an acknowledgement of their leadership and these four have certainly made an effort to make all our students feel welcome. Thanks guys, this is what being an ESOM is all about.
RELA Becomes an Art Gallery
Over the past few months, we have been lucky to have Marco Urbina , a talented artist, from Chile studying with us. He and his wife are heading back to Chile so he needed to sell of some of his wonderful art. To do this he held a special exhibition at the school. A lot of our staff and students will be going home with some fabulous new pieces of art for their home and homestays. Chris purchased the gorgoeus Eat Street one, so those of you who come to study with us will get to enjoy it 🙂
ESOM Winners for June, July and August
Well done to Elvira from Taiwan and the two Fahads from Saudi Arabia. You are superstars!
Welcome, Carlos from Educaminos!
We were delighted to welcome Carlos Mario Hurtado from Colombian agency, Educaminos to the school on Friday. Carlos spent the day with our staff and students visiting many of the sights of Rotorua, checking out our classes, enjoying an emotional farewell ceremony and then joining our students on the Friday afternoon activity to Mokoia Island on Kawarau Jet. He finished the day off in Eat Streat at Eion's farewell party. We loved having you here with us, Carlos, and we are looking forward to welcoming some of your students to our school too!
Happy Birthday, Celine
It is a RELA tradition to celebrate each of our students on their birthday by giving them a cake. Today we wish Celine Hnawaeongo from New Caledonia a very happy birthday from all your RELA family xx
ESOM winners for April and May
Well done to Marcela from Colombia (April) and Sherry from Taiwan (May) for winning the ESOM trophies. All your hard work is certainly paying off as you are both making huge improvements in your English!
Friday activities
Recent Friday activities have included Agroventures and Motion Entertainment – New Zealand's biggest indoor entertainment arena.
2017 High School Preparation class
Today we said goodbye to our high school preparation students. On Monday they start their "new lives" in kiwi high schools. We wish them all the very best and congratulate them on their hard work and the progress they have made. Don't worry, it hasn't been all hard work. There has been some play for them too 🙂
The Easter Bunny pays RELA a visit
Happy Easter everyone. We hope you enjoy the break and all the chocolate!
Happy IELTS Candidates
Well done to our super-clever IELTS class who ALL achieved the results they needed and in fact surpassed even their wildest expectations! We all knew you could do it – Ines, Nana and Simon and, of course, Ivin (who wasn't around for the photo) Also, I think you'll all agree the staff look rather good dressed in green for St Patricks day 🙂
Crankworx
The world's largest mountain biking festival has just been back to Rotorua for the third year running and what an epic week of riding it was. Some of our students were lucky enough to get along to watch but for those of you who didn't make it, here is a tatse of what you missed.
Roll on 2018! I can't wait to see what next year's event brings!
Friday Activities
The weather over the last few weeks has been very average though the North Island. However, thankfully, it seems to have cleared for our Friday afternoon activities. Below are just some of the pictures from the past few week which have seen the students enjoy Horse-riding, Paradise Valley, the Skyline, Agrodome and the Redwoods Tree walk.
ESOM winners
Congratulations to these hard-working students who have been awarded the English Speaker of the Month trophy recently:
March – Dayhana from Colombia, February – Makiko from Japan, December – Yuri from Korea and in November it went to Francoise from Switzerland while in October Sammi from Taiwan became RELA's ESOM.
Well done, ladies…come on boys, we want to see your smiling faces here in the coming months!
Groups at RELA
March is tour group season at the school. This year we've been lucky enough to welcome Sendai Shirayuri for the 14th year at the school and Torei Gakuen High School came back for the 6th time. We love having these students and their wonderful leaders in the school. Both groups spent time at local schools sharing their Japanese culture and learning about the life of a Kiwi teenager.
This month (April) we've also welcomed, for the very first time, Taravao Middle School from Tahiti. This group has been amazing and in their farewell ceremony they wowed us with some fabulous traditional Tahitian dancing and drumming.
Below is a picture of Sendai on their visit to JPC
Very Special Friday Farewell
Those of you who have studied at RELA will know that every Friday we say goodbye to our students who are leaving. Students will often make a speech about their time at the school. Kahu, however, went one step further and performed a very powerful haka from his homeland – the Marquesas Islands in French Polynesia. This was incredibly special for all of us and very moving . Thank you, Kahu, we will miss you and wish you success in all you do. You are a true superstar!
Pink Day
Last Friday was Pink Day at the school where we dressed and and raised funds for Breast Cancer awareness. Barrie always loves an excuse to bring out his gorgeous pink suit 🙂
Halloween and Fish and Chip Friday
Check out all the wonderful costumes from our Halloween Dress-up day. You guys rock!! What about Elsa's zombie look – do you think it suits her?? After the farewells, it was off to enjoy a round of Mini Golf and some real kiwi cuisine – fish'n'chips.
All work and no play…
Our students have been working really hard lately. It was test week last week and many of the students got such high marks they were promoted to the next level. It's not all hard work though! Below are some photos from our recent after school, Friday and weekend activities.
Rotorua is such a beautiful place to live and study!
Check out this amazing video which will show you what a wonderful place Rotorua is!! Those of you who have studied here will know many of these places and those of you who have yet to come, we look forward to showing them to you soon 🙂
Shared Lunch on Friday
Staff and students shared a scrumptious lunch together on Friday. Below are some pictures from the day.
Susanne's last lesson – To be RELAised
We were all lucky enough to be given one last lesson by Susanne on her last day. The students, staff and visitors were taught a new verb – to be Relarised. Susanne explained to us that this is what happnes to students and staff when they spend time at RELA. It means – to be happier, to know more about English and the world, to have a new family, to have more international frineds and to think of Rotorua as a kind of home. I am sure all of you who have studied with us in the past will agree with this!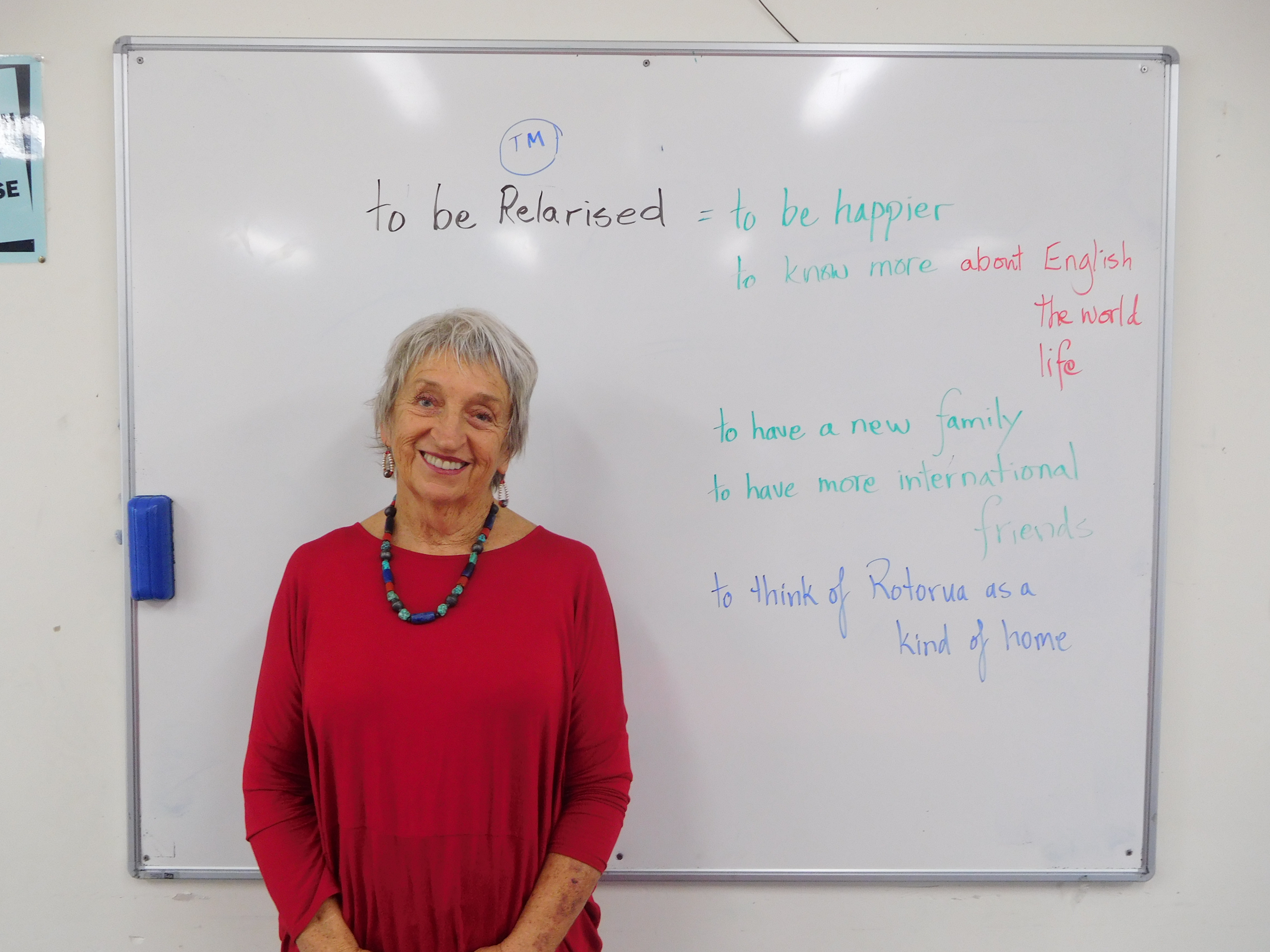 Farewell, Susanne
It was an incredibly sad day on August 26 when we had to say farewell to one of our very special teachers – Susanne Galler. Susanne was one of the very first teachers employed by Chris and Elaine when they started the school in 1993. In between long overseas trips to many places – including Oman, India, Thailand, India (again and again), Spain, and Myanmar – Susanne has been teaching here ever since. She has touched the hearts of so many people in that time and taught students (and staff) so much. Her last day was filled with lots of laughter and tears. Susanne, you will be truly missed and we wish you every happiness in retirement.
English Speakers of the Months
Congratulations to our most recent ESOM – Miku Kaneko (June) and Narumi Eto (July) both from Japan and James Sirisawasdi (August) from Thailand. Congratulations also to Francoise Boillat, seen here with James, who has taken up the challenge of being an English Only Ambassador.
 Hello, Yan
We were surprised by a visit from an ex-student last month. Chau Wing Yan (Yan) studied at RELA for 6 months at the end of 2007 and begining of 2008 in preparation for High School. Yan has been a real success. After leaving RELA she joined Garin College in Nelson before moving onto Otago Polytechnic to study Marketing. She has been working as an Intern marketing Dunedin to the world! Well done, Yan, it was great to see you and hear of your successes.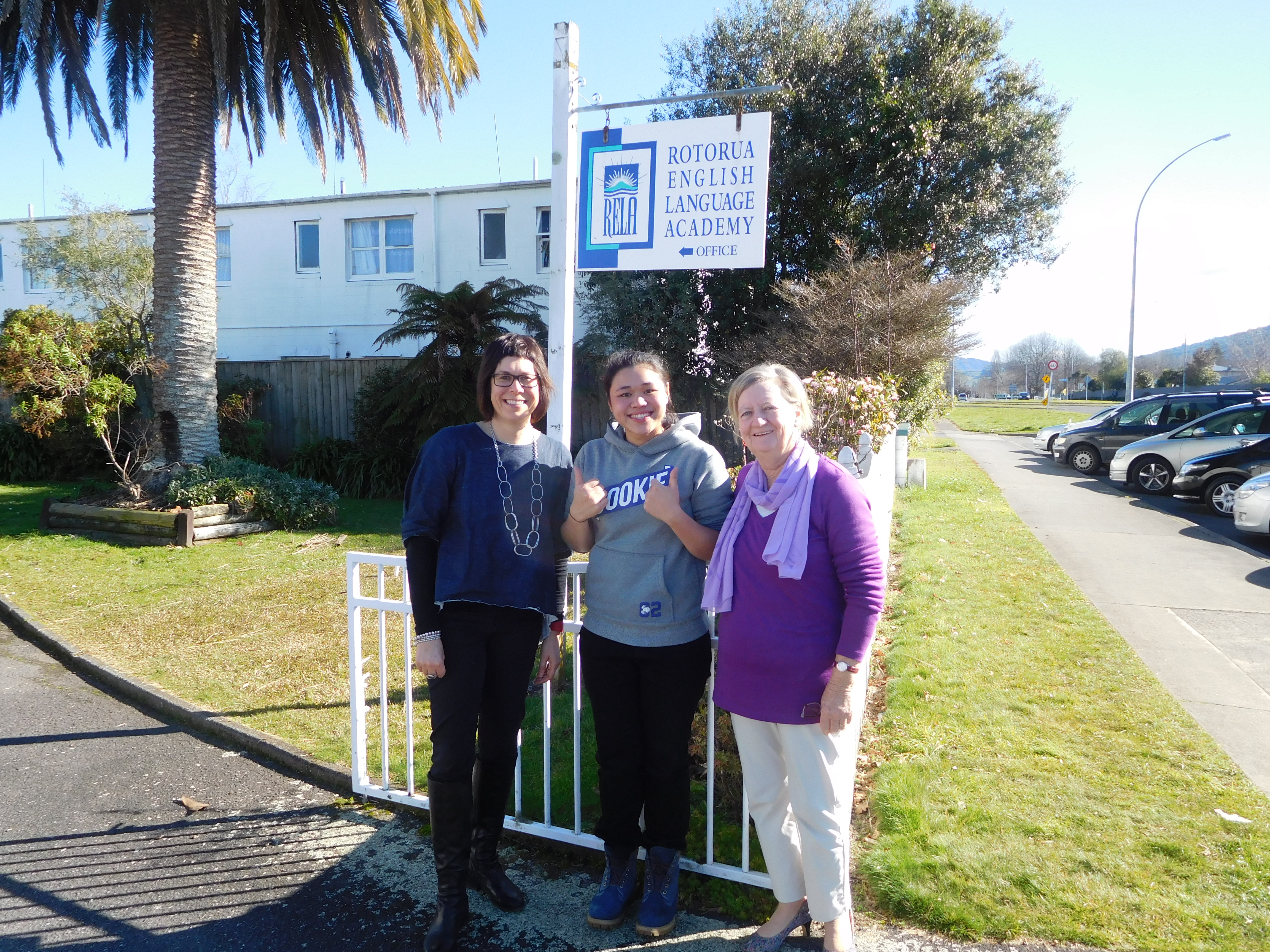 Our time at RELA
When students come to RELA, they have a lot of new experiences. Susanne recently asked her afternoon class of  Pre-intermediate students to write about some of the new things they have tried while being in New Zealand. Below is some of their work.
The Redwoods – Brian from Taiwan
I went to the Redwoods for the first time. It was a really special experience for me. I have never seen the big woods in Taiwan. There are so many large trees, so much fresh air.
I heard my group driver say: "Here, the oxygen content is higher than other places on earth".
I have a very serious nose allergy. So when I went into the woods, I did not feel any sickness in my nose. Being there let me feel so comfortable.
I really like this place.
Skyline Gondola and Luge – Hero from Vietnam and Oki from Japan
The activity we are going to write about is Skyline. We have been there just once but we had a good time there. We had to use a helmet. There are three different courses. We tried the second level. We thought it was a scary level for us. If you have never been there you should go.
Thank you. Hero and Oki
Mt. Ruapehu – Nancy and Max from Taiwan
The activity we're going to write about is going to Mt. Ruapehu. On Mt. Ruapehu we all saw snow on the mountain. It's very beautiful and cold and we forgot to wear gloves. We had great experiences taking photos, made a snowman and fought with snowballs. Unfortunately we felt we didn't have time to go skiing. Maybe we can try it next time. This is our first time to see, touch and feel snow, it was a very special experience.
Swing – Judy and Kelly from Taiwan
The activity we're going to write about is Swing.
In the beginning, we thought the Swing is very high, so we were very nervous to go on it, but we did.
When we sat on the Swing, and it started to rise higher and higher, so we regretted doing it.
At the highest point, we could see the beautiful landscape, but we thought "Why did we go to play the Swing?"
After we came down, we had enjoyed it and had a sense of accomplishment.
The Climbing Wall -Eiki from  Japan
The activity I'm going to write about is The Climbing Wall. I think you can be strong after you had the experience, because you have to climb yourself. No one can help you. If you give up, you aren't going to be strong, but if you continue, you will become stronger. This experience is going to help you in your life.
The Swoop – Tevaihani from Tahiti
The Swoop is an extreme sport. You can do this by yourself or in twos or threes. This activity is being in a bag which is pulled 40m above the ground and after you swoop down and up again at 130kmph. At the beginning you feel very scared but at the end you are excited and you want to do this again and again. That's why it's a good experience. 
Afternoon Project Work
Our Integrated Skills 3 class have been working on Health and Fitness posters and they have asked me to share these with you. The students had to do research on a topic about Health and Fitness. They were put into pairs (and one group of three) and worked on a poster to promote their Health and Fitness programme. They then did an oral presentation.
I don't know about you, but they've inspired me to go out for a walk in the Redwoods this afternoon 🙂
Latest English Speakers of the Month
Well done to Arif from Malaysia (April), Johnson from China (March), and Yumi from Japan (May) – our most recent recipients of the ESOM trophy!
After School Activities
Those of you who have studied with us, know that we run an after school activity programme. This happens three days a week and most of the activities are free. They include things like cooking classes, sports, walks, movies and coffee afternoons. Lately we have been lucky enough to have a very talented craft person studying at the school. Maki has asked to share her passion for crafts by running some after school craft sessions. Below are some of the things the students have made. Beautiful!
Student generosity shines for a shave!
The International students at Rotorua English Language Academy have, once again, shown amazing generosity in their support of "Shave for a Cure" on Friday 8th April. To shouts of "Off! Off! Off!" four brave students, Arif from Malaysia, Moto from Saudi Arabia and Rikuu and Tamon from Japan, volunteered to go under the razor to raise money for Leukaemia and Blood Cancer New Zealand.  Cy from Wilson's Barbershop, who very kindly volunteered his time, passed the razor over their locks as forty students and staff from more than 10 different countries dug deep into their pockets and donated $421.30, showing that generosity knows no boundaries.
Happy Easter
The Easter bunnies came to visit RELA this morning with Easter eggs and hot cross buns. Enjoy the photos…sorry about the camera work 🙁
Seniors' Conversation Class
We have just run our inaugural Seniors' Conversation class and it was a great success. This class runs twice a year and is for those more mature students who don't want to focus so much on English grammar. The class is mixed abilities and has an emphasis on conversation skills (and by the look of things LOTS of laughter) Over the 4 weeks of the course, the class had students from Japan, Korea, Taiwan, China and New Caledonia in it.
Below are the dates for future classes:
2016: October 31—November 25
2017: February 13—March 10
November 6—December 1
Please contact us if you'd like more information about this class.
Hobbiton
One of the most popular day trips from Rotorua is to the Hobbiton movie set. It's just over an hours drive form Rotorua and on the tour you can see Hobbit Holes, The Green Dragon Inn, The Mill, double arched bridge and other structures and gardens built for the films. Check out the photos forma  recent trip that Ali, Ramon, Rina, Beatriz and Alex made to "Middle Earth". Thanks Alex 🙂
English Speaker of the Month
Congratulations to Sami (December), Alex (January) and Henry (February) who were  awarded the English Speaker of the Month award. Awesome effort guys and very well deserved!
Bubble Soccer
It's school holiday time for a lot of people in the Southern Hemisphere which means our activities programme is super popular. On this programme the students study hard in the mornings and in the afternoons go out and about to the various activities Rotorua has on offer. We are always looking for new and exciting things to do so we were very pleased when we found Bubble Soccer and Flip Out Tramploine Arena had opened. The students got to experience Bubble Soccer yesterday and will go to Tramp Park next week.
Enjoy the photos of Bubble soccer and some of our hard-working students in the elementary class. While not a lot of scoring was done, everyone had a wonderful time and there were certainly a lot of laughs to be had!
City Tour in the Sun
Happy New Year everyone! May 2016 be your year. We are certainly looking forward to it here at RELA. This week we have 14 different nationalities represented at the school. It's great watching everyone getting to know one another and learning about one another's countries and cultures. We hope you'll join us soon too!
Colleen took some of our newest students on a city tour yesterday in glorious sunshine. Enjoy the photos.
Welcome to our staff, Reiko and Letitia
We have two new office assistants. Reiko Nicoll and Letitia Helmbright joined our office staff about a month ago. They are both very much looking forward to getting to know all of you and we know you'll enjoy getting to know them too.
Christmas at the Beach and a Surprise Visit from Santa
Many of you who have studied at RELA in the past will know that we make a tradition of going to the beach to celebrate the summer. This year we were treated to absolutley spectactular wetaher. The students spent the day waking around the Mount, shopping, swimming and playing games on the beach. Oh yes…and Henry did have fun throwing our staff in! Thanks, Henry!
Then on Christmas Eve, the jolly fellow dressed in red paid us a visit. Below are some photos of these two events. Can you work out who Santa and his able little elf are??
Merry Christmas from everyone at RELA
Merry Christmas to all our friends and your families around the world and all the very best for 2016.
Who said boys can't wear pink?
Barrie (RELA's own Don Johnson from Miami Vice) unveiled his new summer suit for us on Wednesday! What do you think? He certainly won't be missed walking to and from the school 🙂
Giving Back to the Community 1 – Salvation Army Food Bank
With Christmas just around the corner, we wanted to give something back to the Rotorua community. This year, we did this by donating to the Salvation Army foodbank. Each year the Salvation Army collects food which they will donate to families in need at Christmas. Staff and students brought along food to donate and the RELA staff also donated Christmas presents for children in need. Christilla, Primerose, Abdul, David and Rina took our donations along to the Salvation Army last week.
Giving Back to the Community 2 – Volunteering in the Rain
Another way our school gives back to the community is by volunteering.
Rotorua plays host to a lot of different sporting activities and events throughout the year. To make these activities possible, volunteers are always needed. At the weekend the Weetbix Tryathalon was held. This saw 1000 children aged between 7 and 13 swim, bike and run their little hearts out. Over 100 volunteers were needed and our lovely students put their hands up to help out. Sadly the weather wasn't the best but Atsuko from Japan and Valeria and Carlotta from Italy assure me they had fun. Well done girls, you helped make a lot of Kiwi kids very happy and we LOVE those t-shirts and raincoats 🙂
ESOM for November
Congratulations to the wonderful Yasuyuki Kato who was unanimously voted English Speaker of the Month for November.
Weekend Adventures
Because Rotorua is so centrally located, it is incredibly easy for students to travel around the country at the weekends. Recently a few of our Swiss students – Rita, Nina, Lisa and Florian – walked the spectacular Tongariro crossing. Lisa then organised a day trip for another group of students (Luz, Abdul and Atsuko) to visit White Island, New Zealand's most active volcano.
Friday Fun day of Action Activities
On Friday the students got to try their luck at pistol shooting, knife throwing, archery and short golf! Their aim wasn't always perfect but that just made the afternoon all the more enjoyable!
Beautiful Spring Day at Skyline Gondola and Luge
Check out the fun we had up at the Gondola and Luge for last Friday's activity. The weather was superb, the ice creams delicious and the views were unbelievable. Even Aaron and Shingo managed to conquer their fear of heights for the afternoon. Well done boys 🙂 You can find more photos of the afternoon on our Facebook page.
English Speaker of the Month
Our very well deserving ESOM for September was Rina Hirayama from Japan. In October , the award went to Luz Bernal Jaimes from Colombia. Thank you lovely ladies for all your hard-work using English around the school and for the leadership you have shown.
Black Out day for the All Blacks
On Friday we all dressed in black to support the All Blacks. And…it worked! The All Blacks managed to win the Rugby World Cup after a rather tense final against Australia. Woohoo!
Look at our Gardens
Spring is the most beautiful time in Rotorua. Our gardens are looking stunning at the moment. Thank you, Judy. A special thank you, too, to Masaaki who has been at work in the vegetable garden.
My Ideal World
Robyn asked her afternoon Integrated skills 2 class to think of their ideal world. We were blown away by their ideas. Wouldn't it be great if this world became a reality?
What we do at the weekends – by Debbie's Integrated Skills 4 class
Cathedral Cove and Hot Water beach – Abdulrahman (Saudi Arabia)
Recently, four of us decided to go to Coromandel. We set off on our journey on Friday 5:30 pm and we arrived in Coromandel at 8:30. It took us 3 hours to get there. The first thing we did, was rent a motel to stay that night so we could start looking around the town the next morning. The next day we went to Cathedral Cove and we saw the most amazing view in NZ. The rocks were incredibly awesome. The design of them was unbelievable and the place was so quiet and perfect to relax and have some time with yourself. Right after that we went to Hot Water Beach. It wasn't that far away from Cathedral Cove, it only took us 15 minutes to get there. It was the perfect time because when you go there, you should choose the right time to go because if it is in cold weather, that would be pointless. Anyway, we swam in the beach and we dug some holes and buried ourselves in them. The water was quite warm and perfectly fabulous to swim and to bury yourself in.
A Great Weekend Trip – Rina (Japan)
I went to Coromandel, which is in the north of the North Island in NZ, with some friends. I was sleeping the whole time on the way there. When we got there it was night so we just looked for a motel. We found a good motel and we stayed there one night. The next day we got up at 9a.m. and then checked out of the motel and looked for another motel and found a lovely one so we decided to stay there one day. After checking in, we went to the beach. It was awesome but the weather was not so good so I just took off my shoes. The view and beach were awesome but the path which took us to the beach had many steep bits so it made me exhausted. Following Coromandel beach, we went to Hot Water beach. It was freezing but two of my friends swam in the sea. We caught up with other friends there and we decided to have a barbeque so we went to another beach. It was really cold but I enjoyed the barbeque with them. After that, we went back to the motel and the next day we got up about 9a.m. and then went to ride on an old train. The weather was really nice so we could see very beautiful views. After finishing, we went back to Rotorua and I arrived my home about 5p.m. All the way back, I was sleeping.
Lake Tarawera Walk – Nina, Lisa and Florian (Switzerland)
Facts
Distance: 15km one way
Duration: 5-6 hour walk
Degree of difficulty: easy, possible with sport shoes
Distance from Rotorua: 20min by car
Costs: $30 for the water taxi
Our trip
A few weeks ago six of us experienced the walk to the other side of the lake. It was a very beautiful walk with great views of the lake and forest. The wilderness with the native New Zealand plants is amazing. We took our lunch with us for a picnic near the lake. It is an easy track in a hilly and gorgeous landscape. There are a lot of markers which keep you on the right way. At the end you will arrive on a hot water beach where you can swim and relax. If you like, you can walk back, but we took the water taxi. You should book this one day before. Back at the carpark there is a restaurant where you can round off your trip.
http://www.doc.govt.nz/parks-and-recreation/places-to-go/bay-of-plenty/places/lake-tarawera-scenic-reserve/things-to-do/tarawera-trail/ 
Ten students – seven countries
On Monday October 5th, ten RELA students were invited to speak to 'Parksyde' Travel Club and bring them some real-life and personal information from the outside world. Susanne's morning and afternoon classes "volunteered".
The morning was a huge success. Susanne was told that it was the best morning they had had for a long time, and they also enjoyed the juicy Saudi dates.
All the speakers were brave. That's a huge achievement. Public speaking is not a joke!
Rotorua Tulip Festival
Every year Rotorua holds an annual tulip festival. Colleen took some of the students out on the Tulip Trail.  I think you'll all agree that the town looks beautiful.
Friday fun
To mark the start of spring (it seems to have been a REALLY long winter) we recently held a Friday fun day at the school. We played some old fashioned games which really brought out the child in our teachers! This was followed by a barbeque very ably cooked by our Saudi boys (with a bit of help from Teri J) Our lovely Saudi boys also cooked delicious Kabsa for everyone. Yum!
The weather didn't totally behave for us but we still had fun.
Congratatulations!
Well done to our most recent ESOM speakers – Gun (July) and Nana (August). Keep up the good work, guys!
 Shave for a Cure
We really try hard to fundraise at RELA. In March we decided to take part in the annual Shave for a Cure fundraiser.  Shave for a Cure is Leukaemia & Blood Cancer New Zealand's  (LBC's) signature fundraising event.
Each year thousands of Kiwis become Shavees in a bid to raise money to help patients and their families with blood cancer or a related condition. Shave-tastic! Hundreds of New Zealand individuals, businesses and schools have whipped out the clippers, chopped off their locks and organsed events across the country over the years!
This year David and Khalid decided they would shave their heads and asked for donations. Boys, you are a true inspiration! Thank you to all our wonderful students, staff, Si (who generously gave up his time to shave the boys) and friends of RELA who helped us raise $500 for the cause 🙂  Woohoo, you are all superstars!
More information about the event can be found at http://www.shaveforacure.co.nz/
Inaugural RELA Leadership Award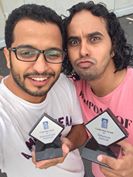 It's always hard saying goodbye to students but it was especially hard for us to farewell Mohammed Saleh and Moha last Friday. These two boys really were a huge part of our RELA family. They had been with us for 2 years and we got to watch them progress their English from Elementary level to passing their IELTS and heading off to start their University studies. They were great leaders in the school too and provided us with so much help settling in new Saudi students, not to mention their leadership on the soccer field 🙂
We were delighted to be able to award the two of them with our inaugural trophy for leadership. Well done boys and best of luck in Auckland. You have left a huge hole in the school and we'll miss you both so much.
Newest English Only Ambassadors
Well done to Abdulrahman, Waleed, Nasser and Honoka for becoming our newest English Only Ambassadors. We know you will do a great job 🙂
 
Yay…Social Soccer season is here again!
The social soccer season is underway again for 2014/15. Our team is again being ably led by Moha. Our first game didn't go quite as planned as we lost 3-1 to our nemesis from last season! However, the team played brilliantly and we're hoping for better results in the coming games. Most importantly they all had a great time.
More fun in the spring sunshine…
Some of the students got out and about with Lana yesterday and enjoyed the spring sunshine up at the Centennial Park Tree Trust. Stunning photos and stunning students 🙂
Yay…spring sunshine at last!
As I said in an earlier post, spring is finding it hard to shake off winter's grip. However, we have seen some sunshine this week and Pablo, Manon, Matteo, Shaun and Markus have been making the most of it and enjoying the spring flowers in our garden. Aya and Chris have even been out getting the vegetable garden ready and…we even have passion fruit on the vine. Roll on summer…we've missed you so much!
The Secret Spot – Rotorua Nature at its best and our after school Forest Walks
Rotorua has so many wonderful hot pools to relax in and some of the best are FREE. The Secret Spot a.k.a Hot and Cold or The Bridge can be found about half an hour from the central city.  Two rivers one hot and one cold meet to form the perfect place to relax and unwind. Markus, Manual, Johannes and Kaho went and checked the spot out the other day.
One of the most popular after school activities at RELA are the Forest Walks. Lana recently took the students to the spectacular Okere Falls and the Redwoods.
DVD Afternoon
Our hardworking exam students took some time out from self-study yesterday afternoon to watch a DVD… it looks scary. Perhaps self-study would have been a better option 🙂
Farewell KPMG
Our latest two hard-working KPMG students, Ryuuske and Takuro, have just left. RELA is fortunate to welcome staff from KPMG each year for intensive courses to help them improve not only their business English but also their communication skills. Each student studies in our regular classes for 5 hours a day before then having 2 or 3 hours of intensive one-to-one tuition!! Needless to say the change in their English at the end of the four weeks are quite amazing.
We wish you both well back in Japan and hope all the hours of study you've done on your English pay off.
Congratulations Manon, Markus, Mohammed Saleh and David!
Congratulations to Manon for being September English Speaker of the Month. Congratulations, too, to Markus for winning the RELA I-graduate spot prize.
The I-graduate survey is a survey of students studying in language schools throughout New Zealand. It is an opportunity for our students to tell us what they think of their education experience at RELA. Each student's response, together with the responses from others, helps us to improve the student experience for current and future students. To encourage students to participate in the survey a series of prizes are offered for ALL students completing it. We wanted to make it a certainty that one of our lovely students won a prize so we asked the I-graduate people in the UK to randomly draw a name from those RELA students who have completed the survey. Markus, from Switzerland, was the lucky winner. He won a $60 voucher for a meal at a restaurant of his choice. A great prize for a foodie like him!!
Chris, Aya and Jan want to say a huge thank you to all of you who have already completed the survey. If you haven't, there is still time and you know what to do 🙂
Congratulations must also go to Mohammed Saleh and David, our two finalists in the recent Table Tennis tournament. It was a hotly contested final with young David finally getting the better of the more "experienced" Mohammed Saleh. Well done, gentlemen!!
"Welcome to Spring" Shared Lunch
Spring is here…or at least that's what the calendar says! To celebrate we held a shared lunch and christened the pizza oven. It was a fabulous afternoon, despite the not so spring-like weather, of delicious food and wonderful company. We even had a visit from a surprise guest…Labour Party candidate Tamati Coffey.
Odd Shoe Day
RELA staff and students recently took part in the Odd Shoe Day Fundraiser. All our wonderful staff and students wore odd shoes to school to raise money to help  Camp Quality continue their great work helping to provide a programme to children living with cancer. You can read more about the wonderful work they do at www.campquality.org.nz
We managed to raise $126 for the cause and, as always, had a lot of fun in the process.
Crankworx comes to Rotorua!
Attention all mountain bikers!!
Rotorua is already considered one of the world's best mountain biking locations, and from next year the city will host the world's biggest mountain bike festival. Crankworx Rotorua will run from March 25 to 29 next year.
You may not know the name, but in the world of mountain biking they don't come any bigger than Crankworx. No other festival draws more spectators or media exposure, and from next year that attention will focus on Rotorua.
Crankworx has just completed its 11th year in the Canadian resort of Whistler. The event is a mix of the best downhill, enduro and freestyle events. Awesome for spectators and competitors alike.
The festival will run in and around the city, based out of the new Skyline Gravity Park and cater to all levels of ability. There will also be a raft of other events surrounding the festival for amateur and non-bikers, including a soon-to-be-announced music festival featuring top New Zealand artists
Come and study with us at RELA in the mornings and then go out on the trails in the afternoons. You'll have an absolute blast!
For more information about the event see http://www.crankworx.com/ Watch the following video and see some of the amazing photos from past events at http://www.crankworx.com/whistler/photos/photo-of-the-day
New Artwork
Those of you who have studied with us in the past will know that the stairwell can sometimes get quite scuffed up from bags as students run to get to class on time 🙂 In order to try and stop this and to beautify the hallway, Susanne, Rita, Ikuko and Una, along with the help of our star handyman, Rod, designed and painted a hardboard border to run along the hall. It looks stunning and is certainly working. No more dirty scuff marks!
ESOM Winners
Oh my goodness! Where has this year gone? I can't believe it is August already and I haven't updated the ESOM pictures for so long so here they are… Teipo from Tahiti was the April ESOM, in May it was Ayae from Japan, while in June and July it was two of our Saudi boys – Ahmed and M (Mohammed). Well done to all of you for the awesome effort you have made in speaking English at all times around the school.
Farewell our fabulous 2014 Nishitetsu IBC students
On August 1 we had to farewell this year's group of IBC students. Each year we have the privilege of welcoming a group of students from International Business College (IBC) in Fukuoka, Japan. Students at the college are studying to find careers in the travel and tourism industry. There is  rigorous application and selection process which means only the best of the best come. Those students lucky enough to be selected come to RELA for 4 months each year to study English and then spend another 7 months in New Zealand doing work placements at hotels. This year the students are working at hotels in Taupo, Auckland and Mount Cook. Farewell and good luck Kanako, Mizuki, Takeshi, Chisa and Mei. We miss you!
Heart Stopper Challenge 2014
Once again a group of brave (crazy) students, led by Lana, took part in the Heart Stopper Challenge at the Rotorua Aquatic Centre. This is the third year that RELA has taken part in this fundraising event which sees teams take a 5 minute plunge in icy cold water. Teams are sponsored and all the money raised goes to helping children with heart problems. In NZ 12 babies a week are born with a condition that has no cure. RELA won the best dressed best school team and best singing! Well done Ahmed, Takeshi, Miu, Aika and of course Lana! You're all stars. Also a huge thank you to the supporters who showed up. Here are some pictures of the team who even managed to get their picture taken with the mayor of Rotorua, Steve Chadwick.
Rotorua
Susanne, one of our wonderful teachers and budding photographer :-), recently went for a walk around the central city and photographed a number of changes that have happened recently. Some of these changes include the yarn-bombing of the city, murals which have gone up on a number of new buildings and a number of wooden sculptures that have appeared. The aim was to show ex-Rotorua locals how the city is looking these days. We thought you might like to see too. Despite it being a cold winter's day, I think you'll all agree the changes are for the better and all look wonderful!
RELA turns 21
March 29 saw RELA celebrate our 21st birthday with a lunch in our beautiful gardens. The lunch was held to say thank you to many in the community who have supported us over the years and also for our current students and past staff. We were also lucky that the occasion coincided with a visit from Carolyn Blackmore of Quality English.
Chris Leckie and Elaine Brewster opened the school in Elaine's house in 1993. The school moved to its present site in Pukuatua Street in 1995. The school expanded steadily, adding a new classroom block and student common room in 1997 and extra rooms in 2002. Student numbers range from 40 – 50 during quiet periods to 150 – 180 at busy times. In the 21 years we have been operating the school has welcomed over 12,000 students.
Many of the staff have been with us for many of these years. Susanne started with the school in 1993 and Robyn and Angela followed soon after in 1994.
You can read a lot more about the history of the school in our RELA Press newspaper which was put out to mark the occasion.
For more photos from the day, have a look at our Facebook page https://www.facebook.com/groups/10670644153/
Our most recent  English Speakers of the Month
Check out our clever ESOM students.
Fundraising at RELA
Our wonderful students have recently been involved in some fundraising efforts and we were just thrilled by their generosity.
RELA combined with the local Japanese community to help raise money for a young Japanese girl, Sakurako Uehara, who was badly mauled by dogs and needs extensive surgery to heal her wounds. RELA had a garage sale and RELA students and friends donated $600 on Friday. The garage sale at RELA on Saturday raised about $1500. THANK YOU everybody. That's an awesome effort. And thank you to all the RELA students who spent 5-6 hours helping on Saturday – Masahiro, Miu, Chika, Aika, Hisami, Rita – you guys did an amazing job. And thank you Jesse, Teipo, Lai Hiong, Tom and Shoya for coming to support us. In total, the local community raised over $5000 for Sakurako and her family. You can read more about this at the following link  http://www.nzherald.co.nz/rotorua-daily-post/news/article.cfm?c_id=1503438&objectid=11230780 
We also did some fundraising for the Oxfam Trailwalker http://www.oxfam.org.nz/landing/trailwalker.html?gclid=COra8rrqzL0CFY5cpQodZRwAZA This is an international event where teams of 4 compete together to walk 100kms! It is a brutal event and Elsa was in the support crew for one of the local teams. To help them, she did a bake sale where yummy sweet treats were sold to our students and the local community. Elsa managed to raise over $360 for this – most of it coming from our RELA students. The team she was supporting managed to complete the event in under 18 hours. This is an absolutely amazing achievement. Well done Elsa for getting behind such a good cause.
Sendai Shirayuri Girls' School visit RELA for the 11th year
Every March for the past 11 years we have been lucky enough to welcome a group of girls from Sendai Shirayuri Girls' school in Japan. The girls visit us for about 10 days and take part in our Tour Group programme. They study English in the mornings and go out on activities in the afternoons. They also spend a day at one of our local primary schools – Kawaha Point Primary. This is a highlight for both the girls and the pupils at Kawaha as the Japanese girls spend the day teaching them Japanese songs, games and about Japanese culture. For the homestays and the RELA staff the undoubted highlight of the tour is the farewell party. The girls have the most beautiful singing voices and perform a small show of traditional dancing and singing for our staff and the homestay families. I think you'll agree that the girls performing in their yukata in our RELA garden look just stunning.
The school in March 2014
Here is the school posing for a photo in the Indian summer we are experiencing at the moment.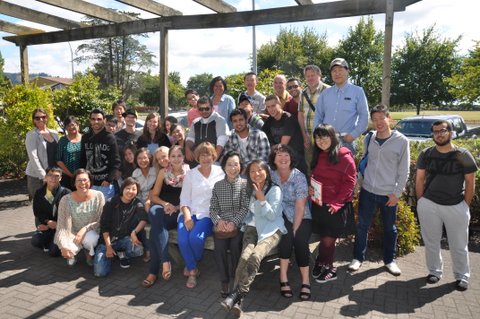 Welcome back, Carlos
We have just had a surprise visit from Carlos Deodora and his lovely wife Maria. They are travelling around New Zealand and dropped in to see us. Carlos was a student at the school a number of years back and he keeps in contact with us regularly. He had this to say about his time at RELA:
I had have only six weeks in RELA ,long time ago , in 2007 ,after my first contact by letter in 2003. Today seven years after , I back to my nice city Rotorua to see my teachers and all RELA Staff .Yesterday after arrive in Auckland my first mind was to rent a car and run to Rotorua . Why… in six weeks I learn to love so much my school  and my lovely city…. why .. I miss a lot my time here ,I never forget that short ,but beautiful time with my friends ,my teachers and all in RELA and Rotorua too … Hugs to all RELA community.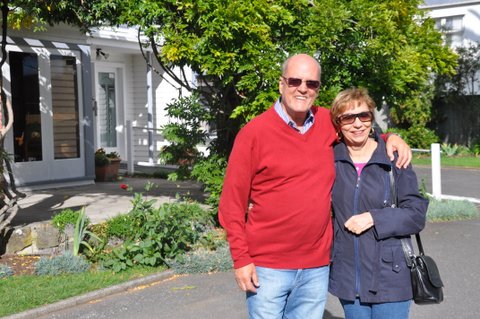 RELA Football team
The football season has ended for our team and they did brilliantly. They managed to make it all the way to the semi-finals where they put up a gallant fight but sadly went down. It was amazing to see the teamwork that the boys (and Lana) had on the field and to see them all communicating in English. Moha, our Captain Fantastic, had this to say at the end of the season:
The competition is over and we've been till the semi-final and that was awesome !!
We started on 10th of January and we kept doing well for almost 3 months anyway this is the football there must be a loser in the match however we have achieved a lot of positive points such as meeting a d…ifferent people in our team and in the other teams as well moreover we have known each other more and more that will make a good memorise for us in the future hopefully  .. The point and the most important thing is being at rela team was for fun more than a competitive thing ..think about it wherever u r from.. how many people have u met during the tournament ?! And this what we need in NZ .. I mean meeting a different people from different cultures also I big thanks to all people who played in RELA team from Saudi Arabia , Brazil , chilli , Spain , Japan , Switzerland , New Zealand ..
All the supporter you were the important part of the team thanks a lot for u as well
Fifi , medo , simon , Felipe , Chris , mark , Rei , Lana , Marie-Sophie – abo saleh , Reyan , Marty , younis , Charly , Richard , Gabriel , Fiona , and all the other Saudi guys
Cheers guys and all the best for you happiness and success
On behalf of all RELA, we'd like to say a huge thank you to you, Moha, for being the driving force behind the team, and also to Medu, Fifi and Mohammed Saleh who were with the team throughout the whole competition.
Good luck to our hard-working FCE and CAE classes
Good luck to Marc, Felix, Jonas T, Jonas S, Fabiola and Dorothea who are off to sit their Cambridge exams. You guys have worked so hard over the past three months. You all deserve to do incredibly well. We know it hasn't all been hard work though and you've all had a lot of fun too, seeing so much that our wonderful country has to offer. Fabbi and Dorothea – the table tennis table will miss you

You can read about Marc's adventures (in Swiss German) on his blog http://www.doelpel.synology.me/blog/ Jonas T decided to combine his FCE studies with some kayaking practice for the World Champs. As well as having some of the best mountain biking trails in the world, our region also offers some first class rivers to kayak and raft down. You can see some footage from Jonas' time on the river at http://www.youtube.com/watch?v=Lb9KjvKDFbQ
Rotorua Mountain Bike Festival
This is held every year in February and brings people from all around New Zealand and the world to the city to experience our amazing trails. This year we were lucky enough to have three lovely Swiss boys who decided to come to Rotorua for the festival and also to study with us. We'd love to see some more mad-keen bikers studying with us during the festival next year! You can find out more about the event at  http://www.rotoruabikefestival.com/
Christmas at RELA
Unlike most schools in New Zealand, RELA doesn't close over the holiday period. We are open everyday except for the Public Holidays. In fact  a number of our students come to us specifically to enjoy a Kiwi Christmas.
We have a number of fun things happening at this time of the year. One of these is our annual Christmas Beach bash. The weather was glorious and everyone had an absolute blast! The Saudi boys had a ball in the surf even if it was a touch colder than what they are used to. Lana was given her traditional dumping – thank you, Joe and Mohammed Saleh. Tim surprised us all with his bogey boarding prowess and then by his willingness to be be buried. A few of the boys then combined to take on some of the locals at volleyball.
ESOM – October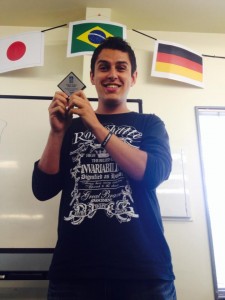 English speaker of the month was the wonderful Felipe! Well done. I think we all agree that Felipe was one of the most deserving recipients ever. I don't think there was a single student in the school or visitor to the school that Felipe didn't take time to chat with. He had a genuine interest in everyone and everything.
Our school
Here's a picture of everyone back in November. Aren't we a happy looking bunch?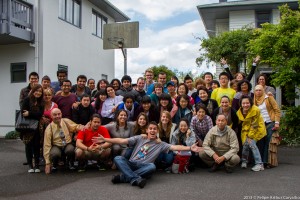 Santa Run
The Santa Run is an annual run which takes place to raise money for KidsCan. This year RELA entered a team. Despite the less than perfect conditions – there was a downpour – our runners did really well. Shoya Imagawa (on the left in the picture below) came second…it could have been first if only he hadn't slowed to walk over the finish line 🙂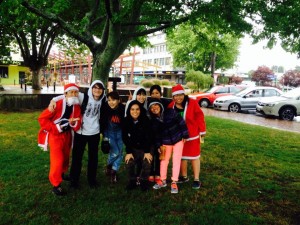 Back to our winning ways
A number of the original RELA football team has now left us as they have completed their time at RELA and their Cambridge exams. This means we have been looking to recruit some new blood into the team. I am pleased to say we have found some real stars and have returned to our winning ways. The last two weeks have seen wins for the team much to the delight of our many supporters. Miu scored the winning goal in injury time two weeks ago and last Friday it was Moha who slotted home an awesome goal. Lana and Miu have even developed a groovy new celebration dance. This Friday is the last game before the Christmas break, so let's go out in style guys.
The Mohammeds say thank you!
RELA believes in an open door policy where students can come and talk to any of us whenever they like about anything at all. Someone is always there to help you with anything you may need help with. Elsa can give advice on your classes and academic programme, students can talk to Lana about activities and things to do in and around Rotorua. Lana can also help students to set up bank accounts. Teri will give advice on extending courses and insurance. If students need help with their visas or going on to further study, they can talk to Jan. The teachers are always around to counsel students when they need it, too. We help our students because we want to but it is always nice to be thanked and recently three of our Mohammeds, with the help of the lovely Lana,  surprised us in the most wonderful way. Out of the blue at the farewell Moha, Medu and Mohammed Saleh presented the staff with the hugest cake we have ever seen. Thank you, thank you, thank you. We really appreciated the very thoughtful gesture!
A Walk in the Redwoods
One of the best things about Rotorua is the proximity to the forest and lakes. Lake Rotorua is little more than a 10 minute walk from the school and the spectacular Redwood Whakarewarewa Forest with its 6 marked and countless unmarked tracks is easily accessible by bus. The forest tracks cover many kilometres of pristine trails. The Rotorua area has more than 16 lakes that the students can visit. On our afternoon activities programme we often take our students out and about to the forests and the lakes. Below are some pictures from some recent trips we did to Lake Rotorua, the Redwoods, Horse riding and Okere Falls. Thank you Felipe Carvalho for your wonderful photography skills and to all the fine looking models in the pictures!! Felipe was the first Brazilian to come to RELA as a result of the Jovem Nerd visit to the school. If you'd like to see more of Felipe's pictures, and read about his time at RELA and in Rotorua, have a look at his blog http://www.felipearthur.com/
At the Lakefront, we all saw a hidden talent from Mohammed Saleh – the Seagull Whisperer. Check him out…

Further Study after RELA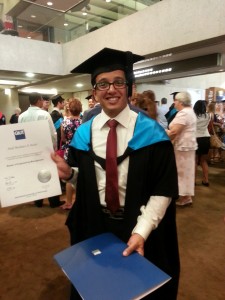 Students at RELA choose to do many different things after they finish their English studies with us. Some of them go back to their own countries and back to their job, university or school. Some find new jobs using their newly acquired English skills. Some go on to further study in New Zealand and abroad. The great thing about RELA is that students are not bound to any one place after they finish with us. We have students studying all around New Zealand and the world. At the moment we have students at Otago University, Canterbury University, Auckland University, Waikato University, Massey and Victoria Universities,  Waiariki Institute of Technology and EIT – to name but a few. Ex-RELA students are also studying at high schools and tertiary institutes in England, Ireland, Canada, the US and Australia. One such student who has just completed his Masters in Engineering Management is Aied Assiri. Aied studied at RELA in 2011 and 2012. He started in our Elementary class with very limited English and graduated from RELA as an Advanced level student. His fabulous IELTS result meant he could join the Queensland University of Technology. It is from here that he has just graduated. Aied now has the enviable decision to make to choose between two different job offers or go on to do his PHD in either Saudi Arabia or Australia. Well done, Aied. We all miss you but are so very proud of you! We know you'll go far.
Cambridge Exam Takers
Our Cambridge FCE and CAE classes finished on Friday. Chris, Fiona, Simon and Majorie are in Auckland today taking the exams. Chris, Marjorie and Simon are taking FCE and Fiona is doing CAE. You have all worked so hard these past three months. We know you'll do yourselves and us proud. Good luck!!
Recent news
Sadly the Football team has not been going so well of late. The team started brilliantly and made it into the top division. Unfortunately so did a lot of other very good teams filled with players who play regularly in the top Rotorua league. Our team has put up some good performances but have not had a lot of success. They have lost two of the recent games on a penalty shootout 6-5! The team is playing really well and we are still proud of all of you.
Three of the team have now left the school so we are looking for some new super stars!
RELA Social Football Team
Friday was the first outing for the newly formed RELA Football Team. They will be playing every Friday in a summer league against Rotorua locals. Teams are made up of 7 players each with each team having to have 1 female on the field at all times. We are very much a team of "Internationals" with players from Japan, Korea, Brazil, Switzerland, Saudi Arabia, China, Austria and New Zealand.
Captained by Moha, the team has had two full-on training sessions which paid off as the team won their first game 2-1! Woohoo! The first goal was a perfectly executed corner from Shoya Imagawa which Moha Alahmadi headed in. The second was scored by Christian Liggenstorfer.
Can't wait for next week guys!!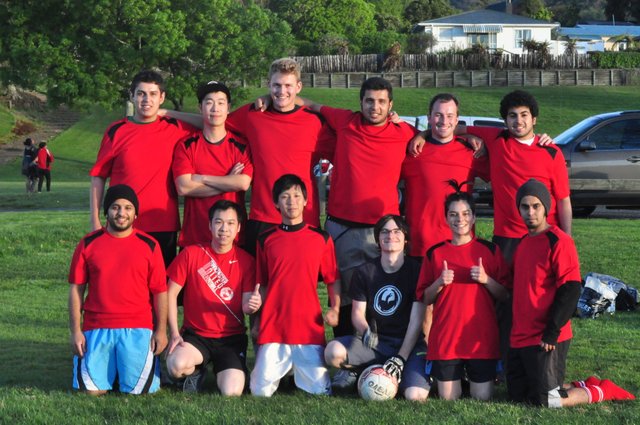 Hi Tech Rotorua Ekiden
Well done Shoya Imagawa who competed in the Hi Tech Rotorua Ekiden at the weekend. The Ekiden sees teams of 6 run, or walk, around Lake Rotorua. Each team member runs one section of the course.  Shoya teamed up with some of our Japanese friends from Auckland including Toshi Konishi and Mayumi Ho from ARC (Auckland Ryugaku Centre). The team had an awesome time even in the wild weather that Rotorua managed to dish up 🙂
English Speaker of the Month – July and August
Well done to Lea Pfister from Switzerland and Dongjun Kang from Korea who won the award in July and August.
Our Principal is a STAR!
Everyone who has ever studied at RELA, or had anything to do with our school, knows that our Principal and Director, Chris, is an absolute star! Our school would not be the wonderful place it is if it were not for her amazing leadership and vision. We were all so delighted when she was honoured recently with a Sir Peter Blake Community Leadership Award. Below are some photos from the night and also from school with the RELA staff and Chris. Thanks, Chris, for all you do for us everyday.
Joe Loves RELA!
Our students love studying at RELA. So much so that one of them, Yang Zhuoming (Joe) from China, decided to shave "RELA" into his head!  Here he is trying to convince Ron from China, Mohammed from Saudi Arabia, Simon from Austria and Kim from China to join the trend. What do you think guys???
The Down Jacket Mafia
This has been the first experience of a winter for many of our Saudi boys. Even though the temperatures have been quite mild compared to usual, the boys have really been feeling the cold. That was until they discovered the sale at Macpac and the joy of down jackets!
Fun in the Winter Sun!
Lana and the students took some self-portraits of themselves enjoying the break in the cold weather in Kuirau Park yesterday.
English Speaker of the Month
Well done to Johnny from Taiwan who was May's English Speaker of the Month and Marty from Korea who was awarded the honour in June. Awesome work, guys. Not only do students who only speak English make great progress with their language but they also make friends from all around the world. Many of these friends turn out to be life long friends and we've recently had a message from a couple of our ex-students who studied at RELA 7 years ago and out of the blue met each other in Holland just last month.
Thibaud's Duathalon
At the weekend, Thibaud Forget participated in Race 2 of the RATS (Rotorua Association of Triathletes and Multisport) Winter Duathalon held in the Redwood Forest. Thibaud did amazing – finishing 10th in the short course in his first ever multisport event! Thibaud, from New Caledonia, is a champion motocross rider back home and is competing in the nationals in France in August.  I can see why he is so good. He has an awesome "never say die" attitude which will take him far. Thibaud, you're a star!
Congratulations Mr and Mrs Smith!
Teri got married on June 8th to Paul Smith.  It was a great night and I'm sure you'll all agree the bride looked absolutely stunning! Below are some pictures taken during the night of some of the RELA staff. It was also great to see Yao Yuan and Gary Sun who studied at the school in 2007. Both are in the final stages of completing their studies at Waikato University. Well done, boys.
Visit to RELA by Brazil's Jovem Nerds
On Friday May 17 we had the pleasure of welcoming Brazil's Jovem Nerd team to the school. The Jovem Nerd website is one of the most important entertainment media channels in Brazil. The Jovem Nerd podcast has the highest audience numbers on the Brazilian internet. Every semester the team travels to somewhere in the world to highlight that country/place and the best points of 'nerd" culture there. This year they have been guest of Education New Zealand(ENZ) and Conversa and were here to promote New Zealand as an English language destination to their large youth audience.
We were delighted to have Gustavo (Guga), Amanda,  Andreia, Deive, Alexandre,  and Agatha at the school. They were welcomed by a rousing haka performed by Royan, Daniel, Marty and Youssef as well as Mio, Ai, Chihiro and Takako. Well done Lana for teaching the group!
Chris took them on a tour of the school before they joined classes for an hour. We then provided them, and the rest of our lovely students, with a lunch of traditional kiwi fish and chips accompanied by some wonderful salads made with fresh ingredients from our garden, all washed down with some L&P.
We also had Guga do a blind taste test of some classic kiwi "kai" including jaffas, pineapple lumps, marmite on vogels toast and feijoas (definitely not a hit despite feijoas originally coming from South America :-))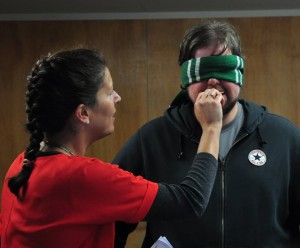 You can see a video of the Nerds time with us at http://jovemnerd.com.br/nerdoffice/nerdoffice-s04e23-nerdtour-nz-a-admiravel-cultura-maori/
 NZ's Best and Most Beautiful City – again in 2012…

Woohoo! It's official – Rotorua has again been voted Best City in New Zealand. Those of us who are lucky enough to live here have long known it and our students who come to study with us are often blown away by the city's natural beauty. To have it officially recognised is wonderful. The award was presented in November 2012 by the Keep New Zealand Beautiful organisation. It is the seventh time Rotorua has received this accolade – the other years being 2010, 2009, 2006, 2002, 2000 and 1999.
Rotorua District Council funds and employs the Keep Rotorua Beautiful coordinator position and is involved in a wide range of services aimed at ensuring the district remains clean, tidy and attractive for the benefit of local residents, and the many visitors attracted to Rotorua each year. We'd love you all to come and see just how beautiful the city is for yourself. However, in the meantime check out Tourism Rotorua's website to see some photos of the city http://www.rotoruanz.com/resources/images/
Karen's RELA Story
Liao Keren (Karen) is from Chengdu, China and came to New Zealand on a working holiday visa. We have been incredibly lucky to have her in the school since April. Karen is one amazing lady. From the moment Elsa and Jan met her in the Interview room we knew that she was going to make a huge impact on school life. She just radiates positivity and has been a wonderful influence on so many people. Susanne recently asked her class to write their RELA story and this is what Karen wrote: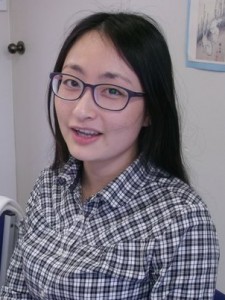 "When I left Warkworth for Rotorua in March, I thought it would be another journey in my working holiday time. I cannot believe I have stayed in this city and attended an English school since April. Well, this is life!
I didn't realise that I was ready to study English again, until one of my co-workers recommended this language school to me. The biggest change that has happened to me, I guess, is choosing to study by myself this time and not being forced by others. When I came to this tiny school, I found so many students from all walks of life, but smiles were always on their faces even though we sometimes couldn't chat with each other fluently in English. I joined in their groups so rapidly that I forgot I was a freshman. The same situation happened in the relationships between teachers and me. Before the beginning of studying, I had to admit that I was a little bit nervous in the new environment, but when I studied in the classroom, I felt totally comfortable. During the lesson time, I always pointed out where I couldn't catch up, and the teachers, I mean, everyone who taught me, would stop and explain to me especially. You know this is unbelievable in China's classes.
If you want me to describe how it felt, I guess "like the fish into the water" is suitable! Now this good feeling inspired me to have confidence to overcome an English exam again which means a new start for my life!"
Mohammed's RELA Story
Another of our students who recently wrote their RELA story for us is Mohammed Alkhudhayr. Mohammed is one of those gifted language learners who came to RELA as an absolute Beginner and is now an Advanced level student planning to head to university soon. Having a conversation with Mohammed is like talking to a Kiwi and we are so very proud of all he has achieved.
"In 2011, I was told by my best friend about RELA and I decided to come for studying. My first day at RELA was miserable because I had no English at all and I couldn't understand anything. However, little by little I found myself able to speak, write, read, listen to and understand people. I have had some ups and downs and I found the staff at school very helpful and considerate. However, I've got my life in balance recently. After one year studying at RELA from Beginner to Advanced level, I decided to have a change of scene. Five months after leaving RELA I decided to go back home and spend a few months with my family. After that I came back two months ago to RELA again and the reason why I came back was because I consider Rotorua my second home and RELA as a second family. Now I'm in my IELTS class preparing for my exam to get 6.5 and start the university."
Keep Hold of the Dream
Rotorua's natural beauty and hot spas help Rotorua English Language Academy (RELA) attract a lot of students to study English at the school and experience all the region has to offer.  The school offers a number of different courses to International students from all around the world. In 2012 the school welcomed 410 students from 18 different countries,  aged between 11 and 80 years old.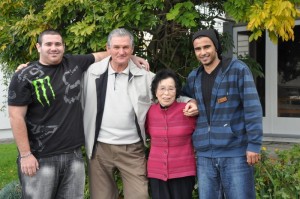 One of these students is Sakiko (Saki) Tanaka. Saki's story is quite extraordinary. Saki first visited RELA in November 2002 as a sprightly young 70 year old. Her husband had recently passed away and she felt that it was time to change her life. She was a part of a group of senior students who wanted to have a homestay experience and enjoy the Garden festival. Since then Saki has come back to study at RELA every year for between two and four months.  This year she is studying for just 4 weeks but plans to be in Rotorua for another 4 weeks.
Her Rotorua "mum" is Goldie Argent . Saki has been staying with Goldie every year since 2003 and the two have a very special bond. Goldie has visited Saki in Japan three times and Saki has been part of a number of Goldie's family celebrations.
Saki was born in Japan in 1932 in Tokyo. Learning English had always been a dream of hers and in 2001 she joined an English conversation club at Travessia Study Abroad in Tokyo. It was with Travessia that Sakiko first came to Rotorua.
From Chris: "At RELA, we have had many older students who have had busy, interesting lives. They dream about studying English abroad, and some can only do this after they retire. We love having these senior students from many different countries."
From Saki: "I have come to RELA 13 times. The RELA teachers, staff and my homestay, Goldie, have helped me so much so I have come to Rotorua again and again. I am lucky"
Goodbye and Good Luck, Harriet

It was an absolute pleasure having Harriet, from Wales, with us at the school over our busy period. Sadly for us, Harriet's partner has found work in Cambodia so the two of them are off on another adventure around the world. Harriet is planning to work in a school in Cambodia.
Visits from ex-students
One of the best things about working at a language school is seeing the journey that so many of our students take both with their English and in their professional lives. We especially love it when ex-students come back to see us and share their stories with us.
Recently we were delighted to welcome on a visit to the school two of our ex-students – Mio from Japan and Mi from Macau. Mio and Mi met at RELA in 2008. After Mi finished his studies with us, he went to Waiariki Institute of Technology and studied towards a Hospitality Diploma and worked at the Novotel hotel in Rotorua. From there he moved onto Lincoln University and has just graduated with a Bachelor in Environmental Planning. Mio left RELA and worked at the Millennium Hotel. She then did various hospitality work around New Zealand and is now settled in Christchurch with Mi. She is working for an Educational Agent bringing students to New Zealand to study. The two of them visited us with Mi's cousin and her husband who are holidaying in New Zealand.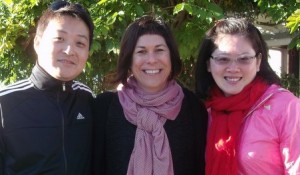 We also had a surprise visit from a student who studied with us on 2002. Zong Xiao Xin (XinXin) left RELA and studied for her Bachelor of Commerce at Waikato University. She is now working for the ANZ Bank in Auckland with another of our ex-students Nathalie who is also from China. XinXin brought her husband to visit us and to show him where her New Zealand journey began.
Another student to visit us was Cheng Chen Yu (Erwin) from Hong Kong. Erwin was with us in 2003 and after completing his RELA studies went to Wanganui high school to finish high school. He then did a Bachelor of Film and Media at Victoria University in Wellington before studying at South seas Film and TV School in Auckland. He is now working as a Freelance Director and Actor. Well done, Erwin!
Susanne's Vegetarian Cooking Class
Susanne's afternoon Integrated Skills 3 cooking class learnt to cook vegetarian food last week. The results were incredibly delicious and again they used a lot of our fresh ingredients from the school garden.
English Speaker of the Month – April 2013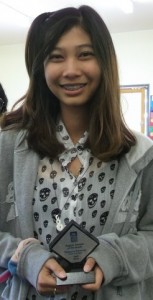 Well done our lovely, Daimon from Thailand. Daimon was a very popular choice for English Speaker of the Month. Everyone at RELA is going to miss you when you return to your university studies in Thailand. Daimon's determination to speak English at all times not only meant that her English showed a great deal of improvement but she has also made a number of very, very close friends from all around the world.
April 11 2013 – Cooking with all our Fresh Goodies!
One of the most popular after school activities in the school are cooking lessons. This week saw Colleen teaching a number of our students digging in the garden for fresh salad ingredients, then learning to make a simple salad and quiche using all fresh ingredients including Chris' yummy free range eggs. The results were incredibly delicious and for some students it was their first time to see just where their food comes from.
English Speaker of the Month – March 2013
Congratulations, Daniel on being voted March's English Speaker of the Month. Daniel is from Malaysia and has been at RELA since October last year.
April 4 2013 – Fundraising for Red Puppy Day
Today the students and Colleen got together and made some Red Puppy cookies to sell to raise money for the Guide Dog Appeal. I think you'll agree it all looks very delicious. Thank you to all the students who baked and to everyone who donated money. Together we raised over $120!
April 5 2013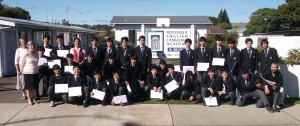 We have also built up a wonderful relationship with Tohrei Gakuen Fujisawa High School in Tokyo. RELA has been welcoming boys from this school for the past 8 years.  This year 30 boys and two teachers came to RELA where they had some very lively lessons in the mornings with Elsa, Janene and Dan and in the afternoons they integrated into classes at Rotorua Lakes High School. The boys worked hard in all aspects of their schooling but had a lot of fun too! One of the highlights of this tour was the haka they performed for us on the last day – check it out here.
March 29 2013
This year marked the 10th anniversary of RELA welcoming a tour group from Sendai Shirayuri Girls School in Sendai, Japan. The relationship we have built up with the school is a very special one indeed. This year we welcomed 23 students, two teachers and our very good friend Miyoko Urasawa from Intersupport in Sendai. The girls stayed in homestays for 10 days, joined RELA classes in the mornings with Barrie, Harriet and Jan and in the afternoons they went out and about on activities. A highlight for this group is their trip to Kawaha Point primary school. The group spend a day at the primary school teaching the students some Japanese games and songs. It is a wonderful experience for both the Shirayuri girls and the kiwi kids.
Another highlight of the trip has always been the leaving ceremony. The girls spend a lot of time in japan preparing for this and always put on a wonderful show for our RELA staff and their homestay families.
We look forward to another 10 years of fun with girls from Sendai Shirayuri Junior High School!
March 25 2013
As well as the new garden, we've recently painted the classrooms in the main teaching block. Check out all the funky new colours, and our wonderful staff and students!
March 11 2013
RELA now has its very own vegetable garden. The RAW food movement is huge around the world and we wanted to start helping our students to understand where a lot of the food they eat comes from and to give many of them their first experience of gardening. A group of about 10 worked together to first build the garden, shovel in the dirt, and horse poo ;-), and finally plant out the vegetables.  Now less than a month later, the garden is producing some very delicious food.
Top